DuPage Henkeeping Supporters
Advocating for Dupage County Backyard Poultry Keeping
Our Story
Hey there! I'm Melanie.
Never in my life did I ever think that I would call myself a henkeeping advocate, yet here I am! 

Here's a photo of my daughter holding one of our hens from before our neighbor complained and we were forced to give away our pets back in 2018.
One of the major reasons our family wanted hens as pets was to harvest their fresh and healthy eggs! My husband has been a Board Member for The GardenWorks Project, so food security is an issue close to my family's heart.
Many people don't realize that nearly 75,000 residents in Dupage County face food insecurity, including 1 of every 9 children in Dupage County. 
Back when we had hens, our family was able to donate our extra eggs to the local food pantry.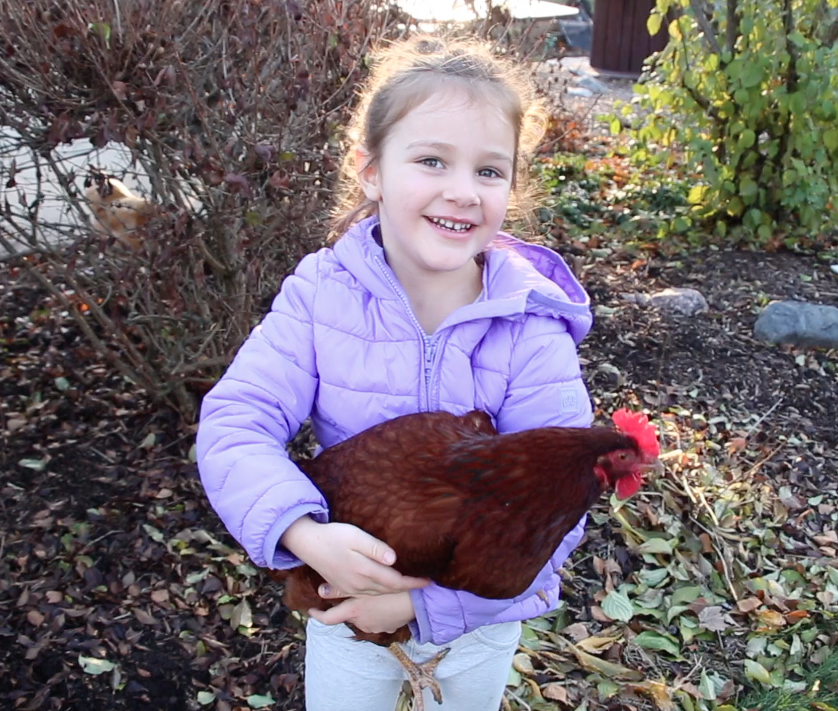 Eleven DuPage municipalities already allow henkeeping: Bartlett, Batavia, Bensenville, Burr Ridge, Darien, Downers Grove, Naperville, St. Charles, Warrenville, Westmont, Wood Dale and Villa Park is working on creating a pilot project.
Most of the DuPage local governments that do have hen bans will look the other way even if they find you have a chicken coop in your yard, until a neighbor complains…
We have a neighbor who complained and the County told us we had to get rid of our family's beloved hens.
Small scale poultry keeping is a healthy, economic, and sustainable way to feed and enrich our families and our community. Raising backyard poultry is an effective way of producing high protein food in residential areas while encouraging sustainable living!
Chapter 37. "DuPage County Zoning Ordinance," Article IV "General Provisions," Section 37-403.6  stipulates that any land use that is not expressly listed as permissable will be decided to be allowed or not by the opinion of the Director of the Department of Economic Development and Planning. Because of the wording of this code, we learned that we were not allowed to keep our chickens.
Call to Action 
We are going to work to change the County code so chickens are allowed in unincorporated DuPage County!
Stand with me in advocating for residential henkeeping in DuPage County, because we support the efforts of residents who wish to grow and raise food for themselves and area families facing food insecurity!